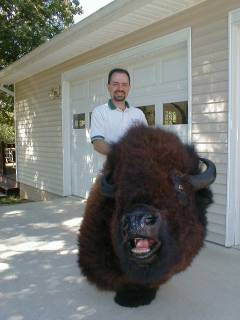 Welcome To My Home Page
I am a professional taxidermist in south-central Missouri. In 2001 I changed careers and am now (2005) rated Airline Transport Pilot.

In June 2005 I began flying Charter service at St. Charles Flying Service. See "favorite links" page for website.

As of May 2013, I have 6 1/2 years service at Aero Charter, Inc. in Chesterfield, MO. The Sabre Liner, Citation CJ2, and King Air are my primary aircraft at this time. I fly each as a captain and am serving as a first officer on the Citation XLS

Our Taxidermy business is closed to new customers.

Since this site is not completed, Some photos are generic and some words may not be my own.
How my site is progressing.
Below is a brief log of how my site development has progressed.

3/24/2001 This is when developing a personal web site began.

7/27/2001 A career change is initiated with flight training.
4/1/2002 I accepted a position as Certified Flight Instructor at St. Charles Flying Service. See "What's New" page.

Dec. 2005 I'm currently flying Charter flights in a Piper Chieftain and cargo flights in Cessna 210 aircraft.

Nov. 2006 My dream job - flying passenger charter for Aero Charter in Chesterfield, MO (St. Louis)

Nov. 2007 Currently flying as captain in King Air, Chieftain, and Baron. First officer in Rockwell Sabreliner and Hawker jets.
A Hobby
I find computers and the creative possibilities they provide, fasinating. This web site is an example of what can be done.
Check the links at the left for other pages in our site.
I am adding information and links as time permits.

Major interests
Flying since age 18. Until 2001 this had been an inactive part of my life. See What's new page
Wildlife, fish, birds, and the great outdoors is another one of my interests. As a professional artist, in taxidermy, my work reflects that passion.
As a family, the Millers love flying, traveling, camping, and fishing.

Captions for pictures
Adding captions makes my pictures more interesting.
Send an email