Links to explore.
A photo sample of my work. And some links you may find useful and/or interesting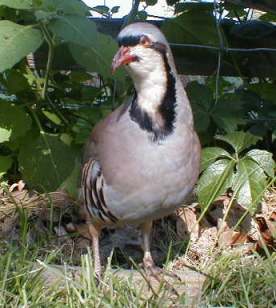 A chukar in a natural setting.
Search Engines
AltaVista You know us as the Internet's original search engine.
Lycos One of the most visited hubs on the Internet reaching one out of every two web users.
Yahoo! With over half a million sites divided into more than 25,000 categories, Yahoo! is both browseable and searchable.
InfoSeek GO Network is a new brand that brings together the very best of the Internet in one, easy to use place.
Favorite Sites
Paul Miller Family Taxidermy, Inc. Our own family business. Now closed due to a career change as a pilot.
Aero Charter, Inc. My place of employment. A very busy, full service, aircraft management and charter company. We also offer hanger rental, aircraft maintenance and avionics services, an FBO, and a full service travel agency
Freeservers.com FREE Web Space for all!
Erv Troyer's page My Uncle Erv Troyer's home page.
High Adventure Ranch Missouri hunting adventure. A ranch that sent me many clients while I was in taxidemy.
Taxidermy Net Just the place to explore the taxidermy profession. There are many links from this site.
Missouri Department of Conservation A great place to discover our state's conservation efforts.
CNN's financial site Check the latest stock prices and financial news.